A world premiere, the Wisdom & Light Immersive Experience will create a multi-sensory, audio and visual experience that brings to life the iconic calligraphy of Venerable Master Hsing Yun, founder of Fo Guang Shan, the largest Humanistic Buddhist community in the world.
Venerable Master's vision no longer allows him to distinguish the distance between each character, and so his heart guides his hands to form one single, continuous, calligraphic stroke transferred from brush to paper. This iconic work is often referred to as "One Stroke Calligraphy".
Fusing art, light and sound with technology, this never-before-seen experience will immerse viewers in jaw-droppingly beautiful calligraphy that will flow, expand and thread its way through a kaleidoscope of botanical, floral and aquatic imagery.
Immerse yourself in a journey to enlightenment.
Set within a customised warehouse facility, this COVID-safe, digital experience can be enjoyed by all ages.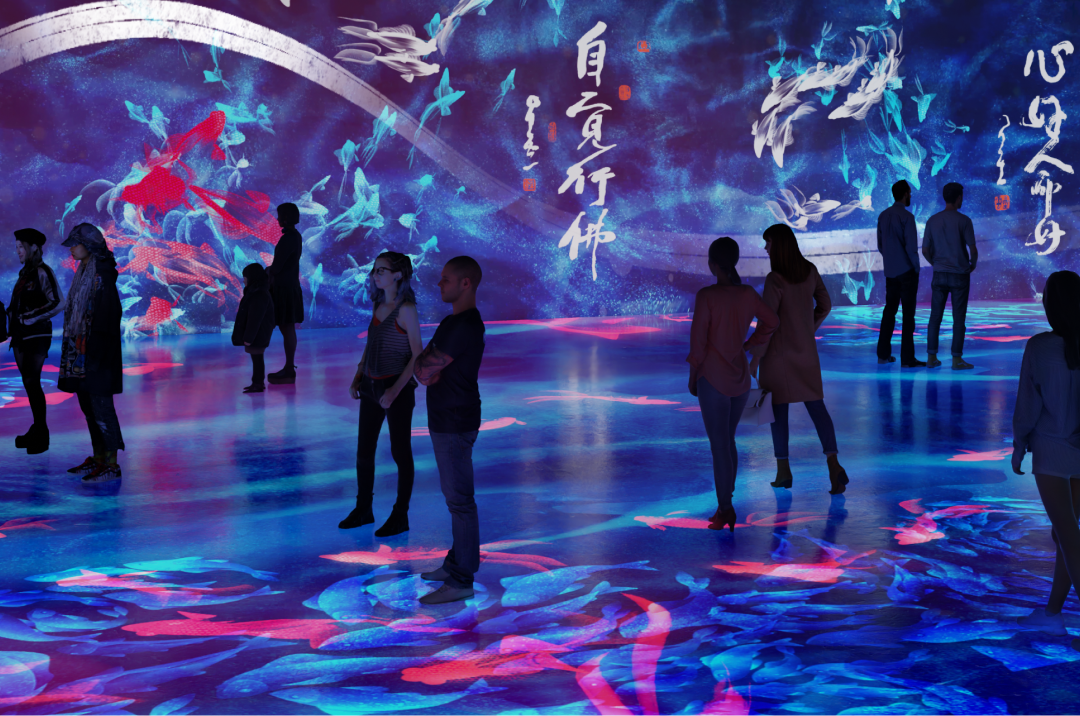 "Our mission is to make One Stroke Calligraphy more accessible to a wider and younger audience," said David Yu, President of BLIA Victoria. "With the creation of our unique digital experience, based on animation, soundscapes and interactivity, we want visitors of all backgrounds to experience a fascinating immersive journey into the ancient art of Chinese calligraphy."
The Experience will operate daily from 10am to 9pm from Tuesday 10 May to Sunday 22 May 2022 and will take about 30 minutes to complete.
The adjacent gallery will display authentic pieces of Venerable Master Hsing Yun's artwork, and guests will be able to purchase mementos of the experience at the gift shop or sample delicious vegetarian delicacies at our Wisdom & Light Cafe located near the exit.
The team behind the experience
Arterial Design have created the digital artwork for this remarkable immersive experience. Arterial designs experiential spaces that are unique, immersive and highly interactive. Their work aims to evoke an emotional connection in viewers, combining 2D and 3D design with the full range of digital technologies to tell evocative stories intimately grounded in people and place. Combining rigorous project management skills with their extensive knowledge of materials, processes and current technologies, Arterial creates a visitor journey of discovery that is both captivating and memorable.
Twisted Pixel will provide all projection mapping using the latest advances in pre-production technology. Twisted Pixel collaborates with talented designers, 3D artists, animators, creative programmers and operators, taking pride in their accurate projection studies and design. Their digital designs have been showcased at Vivid Sydney, White Night Melbourne, Rising Festival Melbourne, Adelaide Festival, Yuejin Lantern Festival Taiwan and the Melbourne Christmas Projections – just to name a few!